Article originally posted on www.insuranceneighbor.com

(opens in new tab)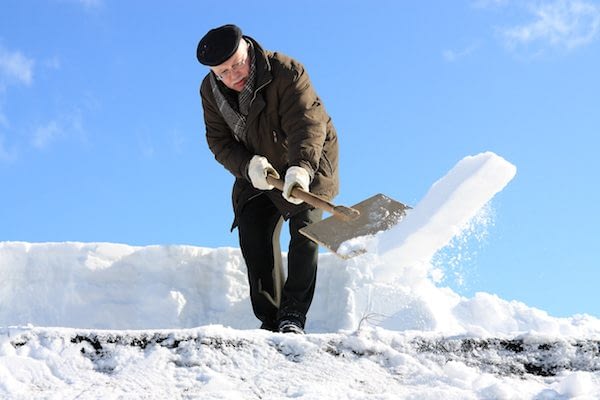 Extreme winter weather can lead to serious damage to your home. Frozen water pipes can burst and cause a flood in your home and basement. A dam of ice within your gutter can divert the water to your interior walls, creating a mess that will be costly to repair. Your homeowners insurance protects against specific types of damage, but every policy is different. Ensure you fully understand the terms of your homeowners insurance policy so you are not left in a tough financial position if your home is damaged by rain, snow, ice, or other severe weather.
These simple tricks can help you make it through the winter months with your home and family safe and warm.
Drafty Homes
Energy conservation is not only important for staying warm and healthy this winter. Heat seeping from windows and doors, through the roof, or into the basement will rack up a hefty heating bill. If you live in a drafty home, you can take some simple steps to keep more of the heated air indoors. Basement drafts can be sealed with spray foam or caulking products, and weather stripping along window openings will help keep frigid air out. In very cold areas, covering the outside of windows with plastic is an inexpensive method to keep warm air indoors. During the day, throw open your blinds, pull back the drapes, and let the light in to help warm your home. As the sun sets, pull the drapes or blinds to trap heated air inside.
Check Your Roof
Weather is unpredictable and we never know how just much snow or rain is on the way. To ensure the safety of your roof, have a contractor check its condition and whether it is strong enough to sustain the weight of a heavy snowfall. Roof cave-ins are not uncommon; even though building codes require roofs be built to withstand heavy snow, not all homes have been built to current standards. If your interior doors begin to stick after a heavy snowfall, it is an indication that the roof is under stress. If you believe the snow should be removed, don't do it yourself. Contact a professional snow removal company, but make sure they are licensed and insured!
Trees and Branches
Consider trimming overhanging tree branches or removing dangerously close trees, as the weight of ice often brings them down, causing terrible damage to roof and walls. Homeowners insurance policies cover certain damage caused by falling trees and branches, but avoiding the problem altogether is the better choice. Remove old and rotting trees or branches, as many insurance companies expect homeowners to have performed standard maintenance.
Frozen Pipes and Flooding
If you're leaving your home over the winter months, drain your water system so that you avoid the risk of frozen pipes that burst and leave you with an indoor flood and an uninhabitable home interior. Most homeowners insurance policies will pay for the damage from burst pipes, but may not cover damage caused by slow leaks, so get a yearly check of the condition of your water system — particularly in older homes.
Do You Have the Best Homeowners Insurance Policy?
Every policy is different, and it is important that you know what you have. There are often homeowners insurance products on the market that offer better coverage at a better price. Our local agency can evaluate your current policy, explain your coverage, and help you find a policy that best suits your needs – including your budget.
Filed Under: Personal Insurance
|
Tagged With: Homeowners Insurance