Article originally posted on www.insuranceneighbor.com

(opens in new tab)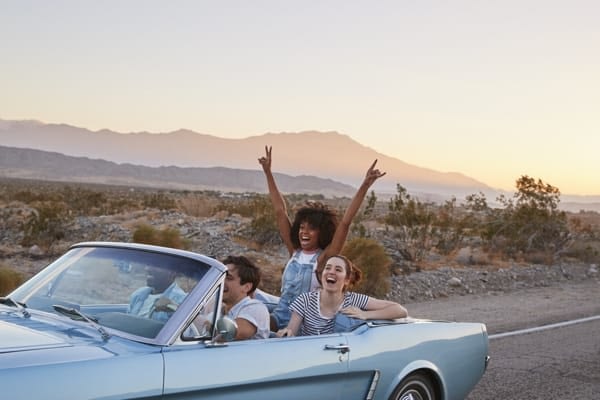 A road trip is an American tradition and a great adventure. While you are traveling, your car becomes your home away from home. Many travelers use their cars as a place to eat, a shelter from the elements, and sometimes even a temporary spot to sleep. Even more importantly, you are relying on your vehicle to get you safely from one destination to another.
Before you leave home, give your projected itinerary to someone trustworthy in case something goes wrong with your car. Make sure your auto insurance provides adequate coverage. Our agents will be happy to review your policy with you to ensure you have the coverage you need. In addition, the following tips can help ensure a safe and pleasant road trip.
Tackle This Checklist Before You Leave on Your Trip
Change the air filter, oil filter, and oil.
Change the spark plugs if needed.
Clean your car, inside and out, before you start on your trip.
Keep a small bag for garbage inside the car.
Pack towels for cleaning up spills, a dirty windshield, etc.
Keep your owner's manual readily accessible.
Cover the front of the car and headlights with a protective sheet to prevent bug clogs and damage.
Get sun protectors for the front windshield and side windows.
Check that you spare tire, tire iron, and jack are where they should be.
Bring a plastic funnel for adding water or other fluids, as well as a bucket in case you need to use river or lake water in an emergency.
Pack a fire extinguisher.
Get a spare car key made and keep it in your purse or wallet in case you lock your keys in the car.
Do not store luggage over the car if you can avoid it. It creates air friction, slows you down, and lowers your gas mileage.
Always fill up when the car is still half full, particularly in rural areas.
Pack a Road Trip Survival Kit with Tools and Items You May Need in a Crisis
Flashlight
Pliers
Screwdrivers and wrenches (different sizes)
Hammer
Jumper cables
Chain or towing rope
Bungee cords
Bottled water
Non-perishable food
Blankets
Check the Tires, Fluids, Etc. Before You Hit the Road
Check your car over carefully (or have a mechanic do it) to ensure there are no mechanical problems before setting out on your trip. Items to check include:
Wipers and wiper fluid
Tire condition and tire pressure (do not over inflate)
Coolant/antifreeze
Fuses
High and low beams
Oil, brake fluid, and power steering fluid
Heater and air conditioner
Any loose cables
Driving Tips
Finally, remember that the driver is the most important factor in trip safety. Know your limits and stop to rest when you need to. If you are too tired to drive safely, pull off the road or stay in a motel overnight. Go for steady driving over speed to reduce your risk of an accident and improve gas mileage. Listen to music to avoid boredom. Never tailgate, and stay away from large commercial trucks. Proper preparation and the right approach to driving can help make your road trip both enjoyable and safe.
Filed Under: Personal Insurance
|
Tagged With: Auto Insurance, Car Insurance